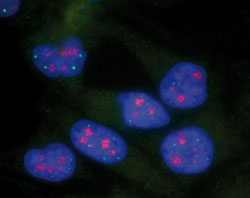 We are interested in studying the assembly and intracellular traffic of ribonucleoproteins, which represents a fundamental process for correct nuclear organization and gene expression in eukaryotes. We are particularly interested in the biogenesis of the spliceosomal snRNPs required for nuclear pre-mRNAs splicing. A key player in the early steps of snRNPs production is the SMN protein, the product of the Survival of Motor Neuron gene, whose deletions or mutations are responsible for Spinal Muscular Atrophy (SMA). Our projects are aimed at the characterization of molecular defects associated to the loss of the SMN protein, using mammalian cells and the fission yeast genetic system as models.
Although it is clearly established that a reduced amount of SMN protein is responsible for SMA, the molecular mechanism by which this deficiency induces the specific degeneration of motor neurons remains unknown.
1.A first hypothesis suggests that SMN mutations lead to the disruption of the splicing machinery.
Consistently, we could show that cells carrying a mutated SMN allele exhibit differential defects in the synthesis of snRNPs leading to differential pre-mRNA splicing defects.
2.A second hypothesis is that SMN possesses a neuron-specific role in axonal mRNA transport in addition to its function in snRNPs assembly.
Accordingly, we found that SMN co-localizes with granules containing numerous proteins involved in diverse aspects of mRNA metabolism. Using a genome-wide approach, we further characterized numerous mRNAs associated with SMN and found that axonal localization of some of these mRNAs is affected in SMN-depleted cells. We discovered also recently that a short motif, located in the 3'-region of the Anxa2 mRNA, functions as a SMN-dependent axonal localization element.
3.The goals of our future research are:
(i) to characterize splicing alterations in genes carrying minor introns in SMN-deficient cells, (ii) to validate and study the interactions between the SMN complex and axonal mRNAs, and (iii) to study the structure/function of the SMN complex in fission yeast. Altogether, our results should allow a better understanding of the diverse role of SMN as a molecular chaperone involved in RNPs assembly and transport and should reveal pathways, which could be subject to dysfunction upon SMN deficiency.