Hepatocellular carcinoma (HCC) is the most common primary liver cancer and the third cause of cancer mortality worldwide. Because therapeutic options for its treatment remain very limited, there is an urgent need to better understand the disease in order to define novel targets that may lead to innovative treatments.
1.Hepatitis C virus and the risk of liver tumorigenesis.
More than 80% of HCC are linked to viral infection. Today, 170 million people are infected by Hepatitis C virus (HCV) and are thus at risk of developing HCC. Although efficient antiviral treatments are available, their current use (which is restricted to developed countries) will not have an impact on HCC frequency for many years to come. Our team has contributed to the understanding of the effects of HCV on liver carcinogenesis. We have notably studied the impact of viral proteins on apoptotic signaling, loss of epithelial cell polarity, EMT and pro-inflammatory signaling triggered by NS5B, the viral polymerase. Additionally, we have shown that metabolic alterations in both human and mouse livers are due to HCV protein activities. After having discovered that the viral proteins trigger Wnt/β-catenin signaling, we are now exploring its impact both on virus-infected cells and on the "bystander" non-infected hepatocytes.
To better understand the impact on liver physiology of HCV-driven paracrine signalling, we are currently analysing clinical samples from hepatitis C patients. The aim of this project is to compare the pattern of gene expression that is altered by the virus in cis (infected hepatocytes) and in trans (noninfected neighbouring cells). To do so we have adapted a novel in situ hybridisation method (smiFISH for "single molecule inexpensive fluorescent in situ hybridisation", developed by Edouard Bertrand's team at IGMM).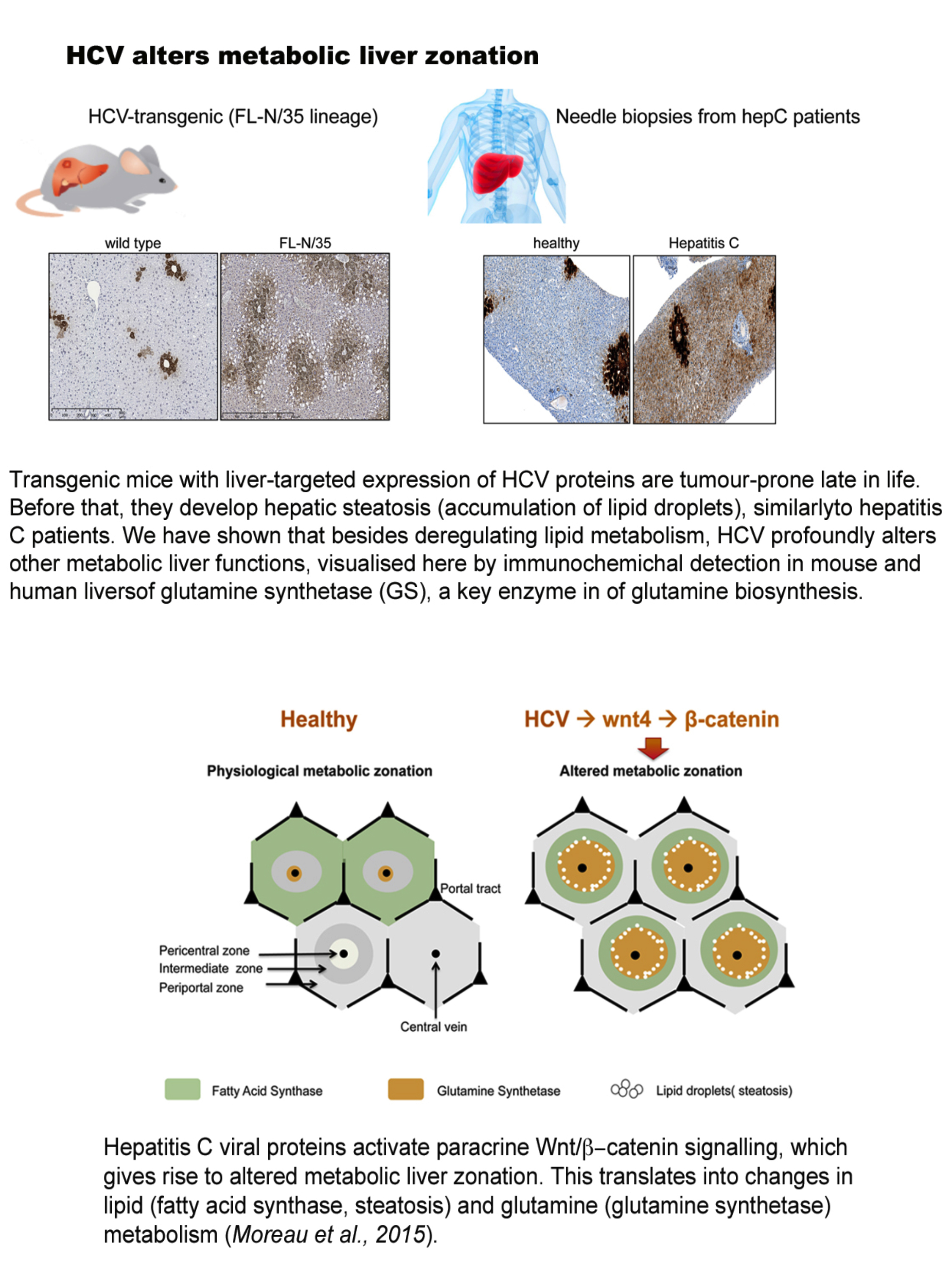 The use of double labelling allows us to simultaneously visualise multiple RNA species; laser microdissection is used for global analysis of alterations of gene expression triggered by HCV.
2.Oncogenic cooperation and population dynamics in hepatocellular carcinoma.
HCC are highly heterogenous tumours that have been classified into groups characterised by defined genomic signatures and clinico-pathological characteristics. We are interested in functional aspects of tumour heterogeneity, notably with regard to the way a genetic composition of tumoral subclones shapes the tumour microenvironment. In this context we are studying different combinations of oncogenic events that are characteristic of seval classes of human HCC. Moreover, in collaboration with Daniel Fisher's team at the IGMM, we are investigating novel oncogenic functions for CDK8 and CDK19 orthologous kinases in hepatic carcinogenesis.
Several genetic mouse models are used in this project. We have also developed a model based on orthotopic xenografts of cells transformed by combinations of oncogenes and labelled with fluorescent protein markers, allowing us to follow them in situ, as well as isolate and further analyse them ex vivo. These studies provide information on interactions between tumour sub-clone cell populations as well as those between the tumour and its microenvironment.