A fundamental question in biology is how cellular processes are so reproducible despite the inherent variations in the chemical reactions governing them. During the development of a multicellular organism, precise control of gene expression allows the reproducible establishment of patterns that will lead to the formation of tissues and organs at the right time in the right place. While numerous studies have established how the spatial information is achieved and integrated by enhancers, less is known concerning the temporal features of transcriptional control. This is particularly true for transcriptional coordination, which refers to the inter-nuclear synchrony of gene activation and to the homogenous distribution of mRNAs across a field of coordinately developing cells. Our goal is to integrate the dynamic aspects of transcription to understand how a precise temporal coordination in gene expression leads to accurate cell fate decisions during development.
We mainly study early Drosophila development: the first 4 hours of embryogenesis.
The approach is highly integrative with techniques ranging from classical genetics and molecular biology to whole-genome profiling and state of the art live imaging microscopy. Image quantification and mathematical modeling are important aspects of our research.
Transcription activation in living embryos
Imaging translation in living embryos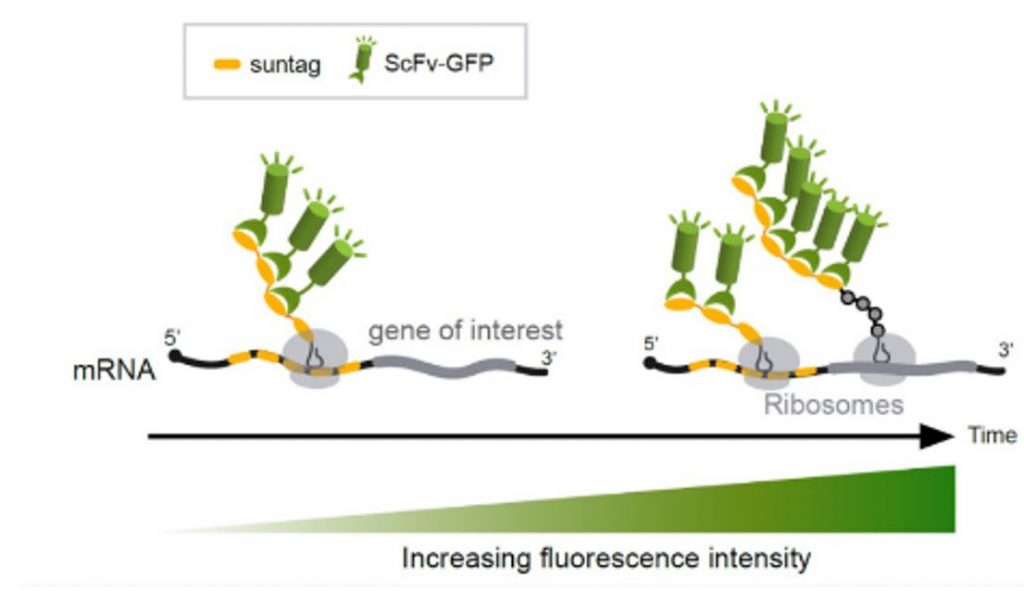 Example of specific projects/recent achievements:
→ Examine the effects of promoter sequences and enhancer priming on transcriptional coordination
How do promoters influence transcriptional bursts? Using quantitative live imaging, genetic manipulation and mathematical modeling, we can decode how core promoter motifs regulate key rate-limiting steps of transcription in the early Drosophila embryo. Applying a novel machine learning approach, we discovered TATA box-driven promoters can be recapitulated by a simple two state model with an inactive OFF and permissive ON from which Pol II initiates transcription. Loss of the TATA motif reduces the ON state duration. The Initiator (INR) promoter motif, in contrast, is associated with a three state model consisting of a permissive ON, OFF1 (on the order of seconds) and OFF2 (on the order of minutes). This long, infrequent OFF2 state is associated with Pol II pausing, but under a model where only a subset of polymerases are stably paused. Our goal is to understand the genetic and molecular mechanisms underlying promoter state transitions during the maternal-to-zygotic transition.
→ Analyze the inheritance of transcriptional states from mother to daughter cells and identify the bookmarking mechanisms at play
Live imaging of transcription allows us to record, for the first time, the inheritance of active transcriptional states (memory) from mother to daughter cells during Drosophila embryogenesis. Here, memory is related to the kinetics of gene de novo re-activation during mitotic exit (transcriptional foci) and not to the inheritance of accumulated cytoplasmic mRNAs.
Our objective is to document the existence of transcriptional memory in the early embryo and understand the function and mechanisms regulating this phenomenon.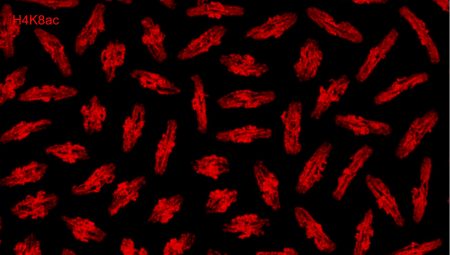 Figure 6 : Acetyl mark in mitosis
IMAGERIE DE LA TRADUCTION DANS UN ORGANISME EN DÉVELOPPEMENT
Le développement harmonieux d'un organisme pluricellulaire nécessite un contrôle de l'expression de ses gènes afin que les cellules puissent adopter un destin précis dans l'espace et dans le temps. Deux étapes clés régulent l'expression du génome : i) la transcription, étape de photocopie de l'information codée dans notre génome en une molécule intermédiaire appelée acide ribonucleique messager (ARNm) et ii) la traduction, processus de formation de protéines à partir de ces ARNm. Alors que les facteurs impliqués dans la traduction sont relativement bien connus, ce processus, n'a encore jamais été visualisé dans un organisme vivant, contrairement à la transcription. En déployant une méthode nommée SunTag (Supernova Tag, basée sur la reconnaissance de petits peptides insérés dans notre protéine d'intérêt et reconnus par un anticorps couplé à une protéine fluorescente) pour la première fois dans des embryons de drosophile, organisme modèle de choix pour les manipulations génétiques, nous avons réussi à visualiser où et quand des molécules uniques d'ARNm sont traduites dans un organisme multicellulaire. Ce contrôle spatio-temporel de la traduction peut être directement comparé au contrôle spatio-temporel de la transcription au sein d'un embryon en développement, afin d'examiner la corrélation potentielle entre ces deux étapes clés du dogme central de la biologie moléculaire.
Par ailleurs, nous avons pu estimer les cinétiques de traduction (vitesse d'initiation et d'élongation des ribosomes) avec lesquelles une molécule d'ARNm est traduite en protéine. En nous concentrant sur la traduction du facteur de transcription Twist induisant la transition épithélio-mésenchymateuse (EMT), nous avons révélé une surprenante variabilité dans l'efficacité de traduction des ARNm en fonction de leur localisation dans la cellule. Ces résultats démontrent une importante hétérogénéité spatiale dans l'efficacité de traduction de molécules d'ARNm identiques, avec des conséquences importantes sur la diffusion des protéines produites. L'observation de l'emplacement et de la dynamique de la traduction de l'ARNm dans un organisme multicellulaire vivant ouvre des pistes pour comprendre la régulation des gènes au cours du développement.
Science. 2021 Apr 29:eabc3483. doi: 10.1126/science.abc3483. Online ahead of print.